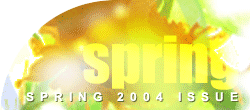 IN TRANSLATION
BY JODIANN M. STEVENSON
"Your names are untrustworthy as tongues - the kind your grandfather will grind into sausage."



POLAR REGIONS
BY GAYLA CHANEY
"I seduced Dick, which was a hell of a lot more difficult than I had imagined it would be."



IMMACULATE OF THOUGHT
BY MICHAEL COCCHIARALE
"A forty-three year old brawling associate professor. What an image!"



BIG FISH STORY
BY IRWIN R. LEWIS
"Now, what the fuck is with the mother fucking, fucked up fish?"



RECOMMENDED READING
BY LISA SWANSTROM
INTERVIEW WITH MILLICENT BORGES
BY ELLEN LEWIS



MORNING LETTER TO THE ATLANTIC
BY COLLEEN WEBSTER


SIDESHOW HEYDAY
BY ALLISON HEIM


WITHOUT MARKERS
BY KENNETH POBO


MY FATHER AS ROME
BY LINDA MASTRANGELO


OLD CLOTHES, OLD RECORDS
BY NATALIA ZARETSKY


COLUMN AND TIRE
BY NATHAN LESLIE


THE ABSINTHE DRINKER DREAMS SHE IS LI PO
BY RYAN G. VAN CLEAVE


WHEN OLD MAN SANTO...
BY DAN SICOLI