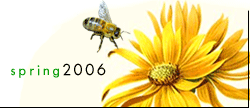 INTERVIEW WITH REBECCA CURTIS
BY LISA SWANSTROM



VACCINATION
BY CASSANDRA ROBISON


REVOLUTION
BY JOHN ALEXANDERSON


HOW YOU GET TO THE FOOTBALL HALL OF FAME
BY TERRY RILLERA


"I DWELL IN POSSIBILITY"
BY GARY LEHMANN


LAST WEEK IN FEBRUARY
BY JAMESON ANDERSON


SHE WAVES GOODBYE FROM THE WINDOW
BY JUNE SARACENO


THRIFT STORE
BY AMANDA AUCHTER


FOOTNOTES ARE THE NEW TITLES
BY MATT BETTS


A CURIOUS WEDDING
BY RUTH MARK


GREENWOOD LAKE
BY MICHAEL ESTABROOK


WHAT MY FATHER USED
BY JAMES CIHLAR


WHEN THEY COME ASKING
BY LIZ MANDRELL
I saw it, like a gonzo comet, gutter balling into the earth's atmosphere. There wasn't a whole lot of noise around it, no thrashing or whizzing, until it hit the top of the fence with a wham!



DANDELION POWER
BY SCOTT ANTON SVATOS
One of the lifeguards was pushing on his chest and the other was breathing into his mouth. One of the cops seemed to feel that this was a waste of time and belted Sherman across the jaw.



KHASH: AN ARMENIAN DELICACY
BY TALIN LINDSAY
Ian stared into his bowl. In the center of it was the foot of a cow. His friend, probably noticing Ian's hands were idle, began explaining what to do.



INDIVISIBLE
BY NAOMI BENARON
Dee breathes in this truth: the natural world spirals in an endless Fibonacci sequence. The numbers of leaves, petals on flowers, the secret inward curl of the nautilus shell.



PONTIAC
BY GAYLA CHANEY
In life, Larry wasn't too romantic. Pillow talk was an unknown language to him. He preferred talking about flushing radiators when he was here, and fan belts and Quaker State Oil. Death has helped him out in that department.



RECOMMENDED READING

Sunspinner highlights some current gems in the online reading scene.