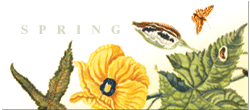 INTERVIEW WITH RON MOHRING
BY ELLEN MARGARET LEWIS



HERMAPHRODITUS
BY LINDA MASTRANGELO


BIRD IN THE BASEMENT
BY DONALD LEVIN


COMETS FALL
BY JANÉE J. BAUGHER


A POSTCARD FROM DIVISIDARIO STREET
BY GARY LEHMANN


THE PAINTING I HAVE NEVER PAINTED
BY CATI PORTER


STONE GRATITUDE
BY CHRISTA MASTRANGELO


SONATA FOR ANOTHER WORLD
BY ROBERT KLEIN ENGLER


CHAMPLAIN, BRANBURY, THE LAKES AT NIGHT
BY LYN LIFSHIN


THIRTEEN SEEDS
BY JULIE R. ENSZER


OLVERA STREET TUTORIAL
BY CAROLYN HOWARD-JOHNSON


THE PAINTERLY EYE
BY GARY LEHMANN


EQUATION WITHOUT FLOWERS
BY MAURICE OLIVER


RECOMMENDED READING

RED ROCK CANYON
BY MARGO MCCALL
The wind eats slowly at the sandstone cliffs up in Red Rock Canyon, then blows into town, dumping a thick film of ochre dust on houses and motels and highways and people. Sometimes I imagine myself filling with sand. When I can hold no more, I'll revert to dust and blow away.



ONE-UPMANSHIP
BY THOMAS GADA
My first reaction is to throw the hammer as far into the brown muck of the lake as I can. Picturing it landing head down, with the handle sticking straight up in the air, is satisfying.



BUDDY HOLLY'S BRAINS
BY HARVEY SUTLIVE
I had a lot of probation already, which is a huge hassle by itself. I told the judge -- you know I'm doing this probation thing. Now you want me to Go to Jail? For not having insurance? For not having a tag on my car? And the dui he said sternly. He was looking at the paperwork. OK the dui I said.


CAMEL JEREMY EROS AND THE GHOST OF THE PIGGLY WIGGLY
BY COREY MESLER
Camel Jeremy, like many a sweet hitchhiker in those halcyon days, was fond of altering his consciousness, by nostrums exotic and mundane, and one way he discovered to do this -- it was either in Steal This Book or Ringolevio or one of the other sacred texts -- was to smoke the dried up peel of a Chiquita banana.

LEAST RESISTANCE
BY TAMARA SELLMAN
The pain and shock of that, melded with hyperactive excitement, overwhelmed her and she fell to the ground in a faint. Blue lips, eyes rolled back into the head, the whole nine yards. This was before the advent of 9-1-1 services. Before people knew things like CPR.



POCKETS OF FORGETTING
BY JAMIE ZERNDT
Herman looked back out the window, at the toy boat carrying a white-haired old lady with a fishing pole and a red-and-white bobber dangling over the side. He thought about his dad, how he always said his mother was an amazing woman, how it always came out as an acknowledgment of something he himself lacked.